52nd Annual Juried Art Exhibition
November 3 @ 10:00 am

-

December 15 @ 5:00 pm

Free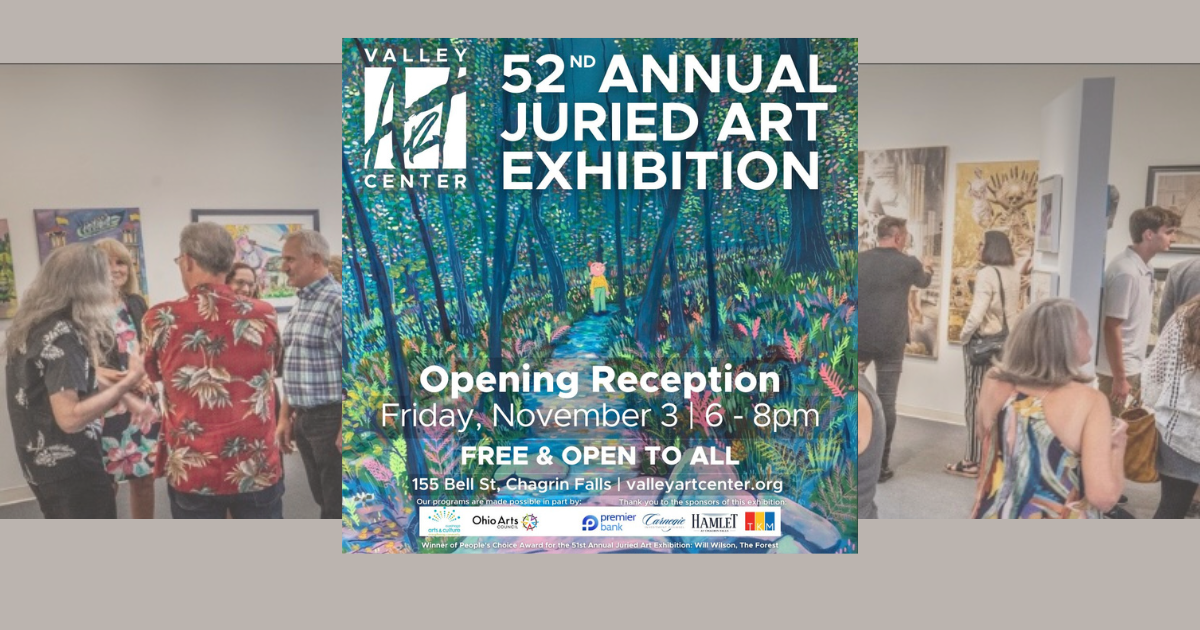 Jurors:
McKenzie Beynon, Founder & Co-Owner, Kink Contemporary
Anastasia Pantsios, Photographer & Editor, CoolCleveland.com
Gina Washington, Art Instructor & Co-Founder, The Visit Arts Collective
Featuring a diverse array of 58 remarkable pieces, this year's exhibition offers a vibrant spectrum of artistic expression. From classical tastes encompassing oil paintings and landscapes to avant-garde sculptures pushing the boundaries of creativity, there is something to captivate every art enthusiast. The 52nd Annual Juried Art Exhibition at Valley Art Center is a celebration of artistic diversity, a testament to the ever-evolving landscape of contemporary art. We invite all art enthusiasts to explore this fusion of visual and literary artistry.
Returning this year is the partnership with Heights Arts, culminating in the Ekphrastacy – Artists Talk + Poets Respond event scheduled for December 1 at 6pm. The current Cleveland Heights Poet Laureate, Siaara Freeman, and a cadre of accomplished poets are guiding this creative exchange of visual and spoken word artistry.
Together, they will craft and recite poems directly inspired by the captivating artworks on display at the 52nd Annual Juried Art Exhibition, weaving a harmonious tapestry of artistic expression. "Ekphrastacy at its core is an interactive art process," says Siaara Freeman. "It is a chance for artists to become familiar with one another's work alongside the opportunity to explore new mediums and methods of creation." The tradition of the Cleveland Heights Poet Laureate, conferred by Heights Arts, continues to thrive as the longest-running poet laureate program in the state. Ekphrastacy – Artists Talk + Poets Respond event, as well as the Opening Reception, are free to the public.