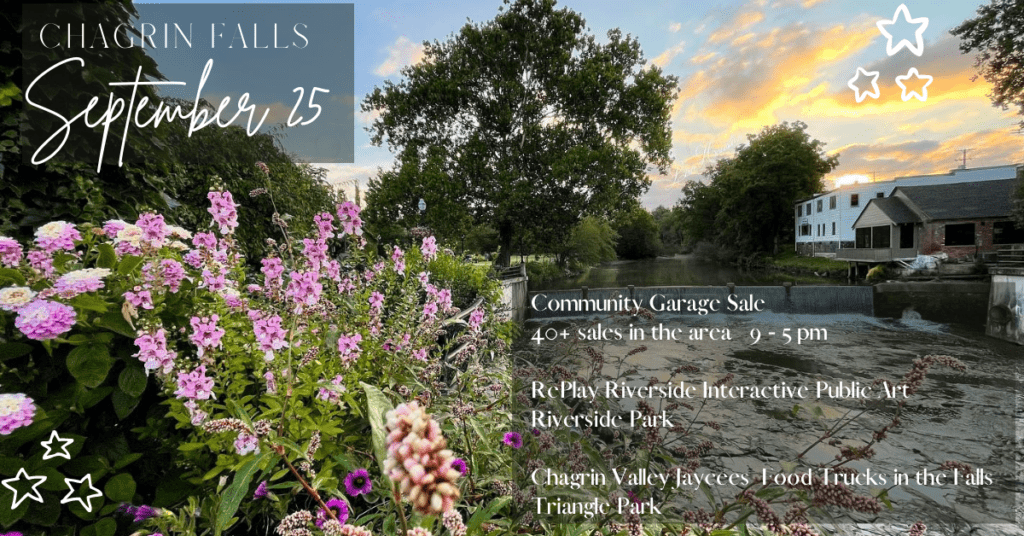 September 25th is shaping up to be a busy day in our little village.
This year's Chagrin Falls Community Garage Sale has almost 50 households already registered in and around the downtown Chagrin Falls area. The concept behind this day is simple – you can have a garage sale without paying a fee, and benefit from the advertising placed by many for the group garage sales in Chagrin Falls.
Each year, we post an online map and create printed maps of participating addresses to help our garage sale shoppers find all the sales. (We also list children's lemonade stands, as it is a popular day for the kids to demonstrate their own entrepreneurial spirit!)
This year, there are several other events happening in concert with the garage sales – the Chagrin Valley Jaycees are hosting Food Trucks in the Falls, the RePlay Riverside Playground Committee is hosting a public art event in Riverside Park called "Breathe With Me", and Chagrin Falls Historical Society is hosting their annual Spirits Alive spooky graveyard tours.
Come out to the Falls, and enjoy this fun-filled day!